YOUNG PEOPLE ACHIEVING JUSTICE,
ONE CAMPAIGN AT A TIME.
ONE
THE PROBLEM
We ask our young people to go out and change the world, but we don't teach them how. The problems we face today are deeply complex and systemic in nature -- rising health care costs, climate change, and educational inequity for example -- yet we're not preparing students to understand or address these systems-level issues. We know this to be true because:
Civics education in the U.S. isn't a priority and hasn't been for the last sixty years, hindering our democracy. Today, less than a quarter of eighth graders in the U.S. are proficient in civics and over 80% of Americans cannot name their two U.S. senators. Access to high quality civics is inequitable, as well. White, wealthy students are four-to-six times more likely to be proficient in civics than students of color from low-income families.

Students are not building strong relationships across lines of race, income and political beliefs. In Colorado, schools are as segregated as they were 50 years ago and neighborhoods continue to polarize politically.
THE SOLUTION
The Colorado Youth Congress trains diverse communities of young people to lead systems change. We bring together high school students from urban, suburban and rural communities across Colorado - from all racial, socioeconomic and political backgrounds - to build a community and learn what it takes to lead change in a complex world.
THE VISION
We envision a world where all people have an equal say in the direction of the future, with young people working across lines of difference in order to bring about a fair and inclusive society.
THE PROGRAM
We recruit students from urban, suburban and rural communities across Colorado to build relationships, set a public agenda, and form campaign teams to work towards that vision.
At the core of our model are youth-led civic change campaigns. Each team gets $500, a coach, our curriculum, and access to our network of systems leaders. Students are in the drivers seat of this work, making all major decisions around goals, strategies, and how to use their budget. Campaigns operate at two levels:
Regional: students come from across the Metro Denver area every other Saturday throughout the school year. CYC hires and develops coaches to help students with their campaign. In the 2018-19 school year, we're serving 115 students, representing 21 high schools and 8 different school districts.

School-based: students work within a school setting, leading a campaign with their classmates and the help of a teacher as coach. In the 2019-20 school year, we're partnering with ten schools throughout urban, suburban and rural Colorado.
OUR MODEL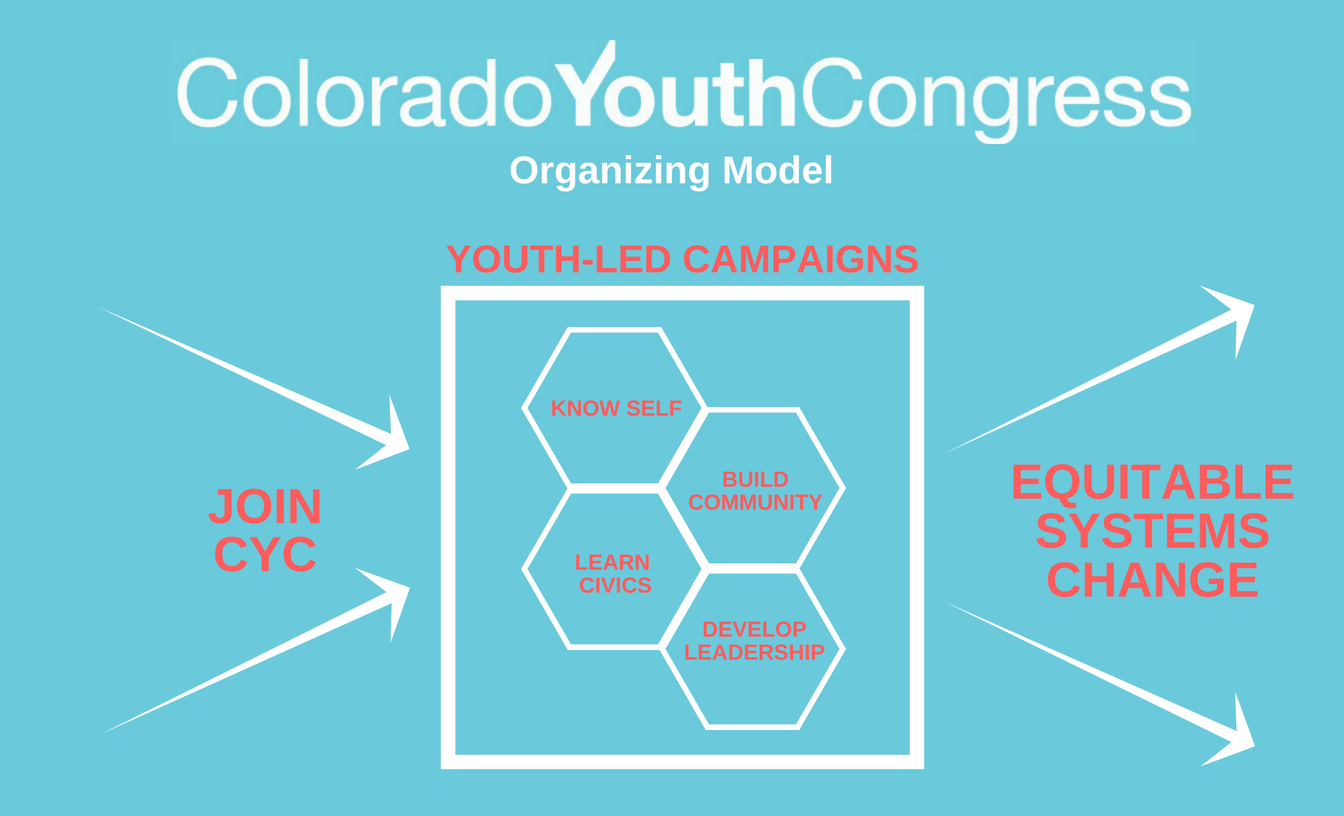 "We are continually faced by great opportunities brilliantly disguised as insoluble problems."
-Lee Iacocca
BECOME A COACH
Our student leaders need great people to advise them. We'd love to have you on the team.
BECOME A SPONSOR
Our business and non-profit sponsors signal their support for youth and their engagement in the world.
BECOME A MEMBER
Are you a HS student and interested in joining the Colorado Youth Congress?
DONATE
Your support helps us prepare students as they work together to solve the most pressing problems of our time.